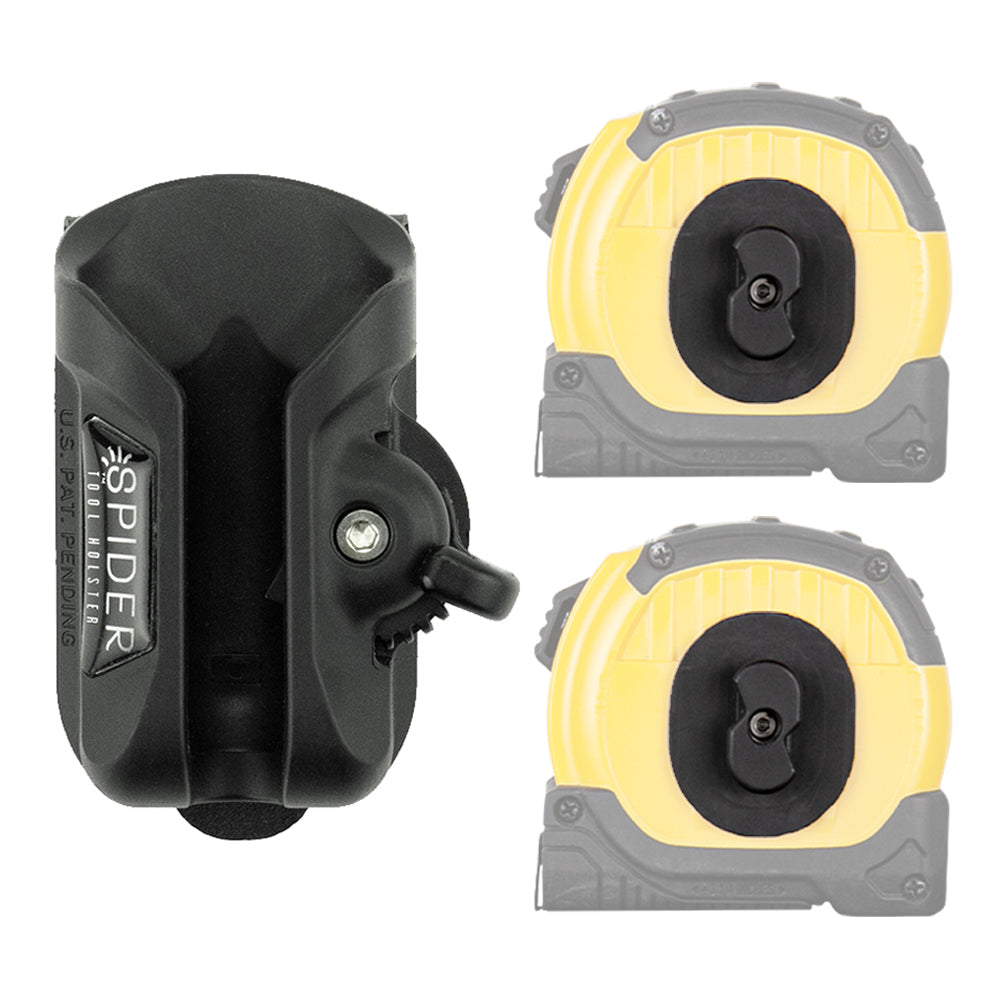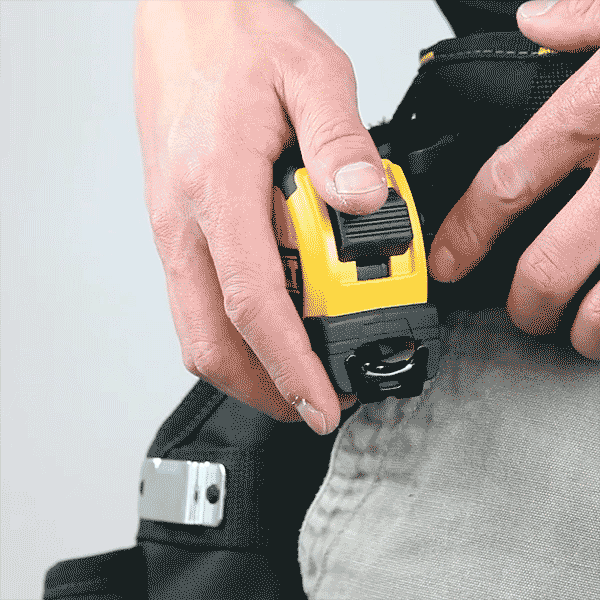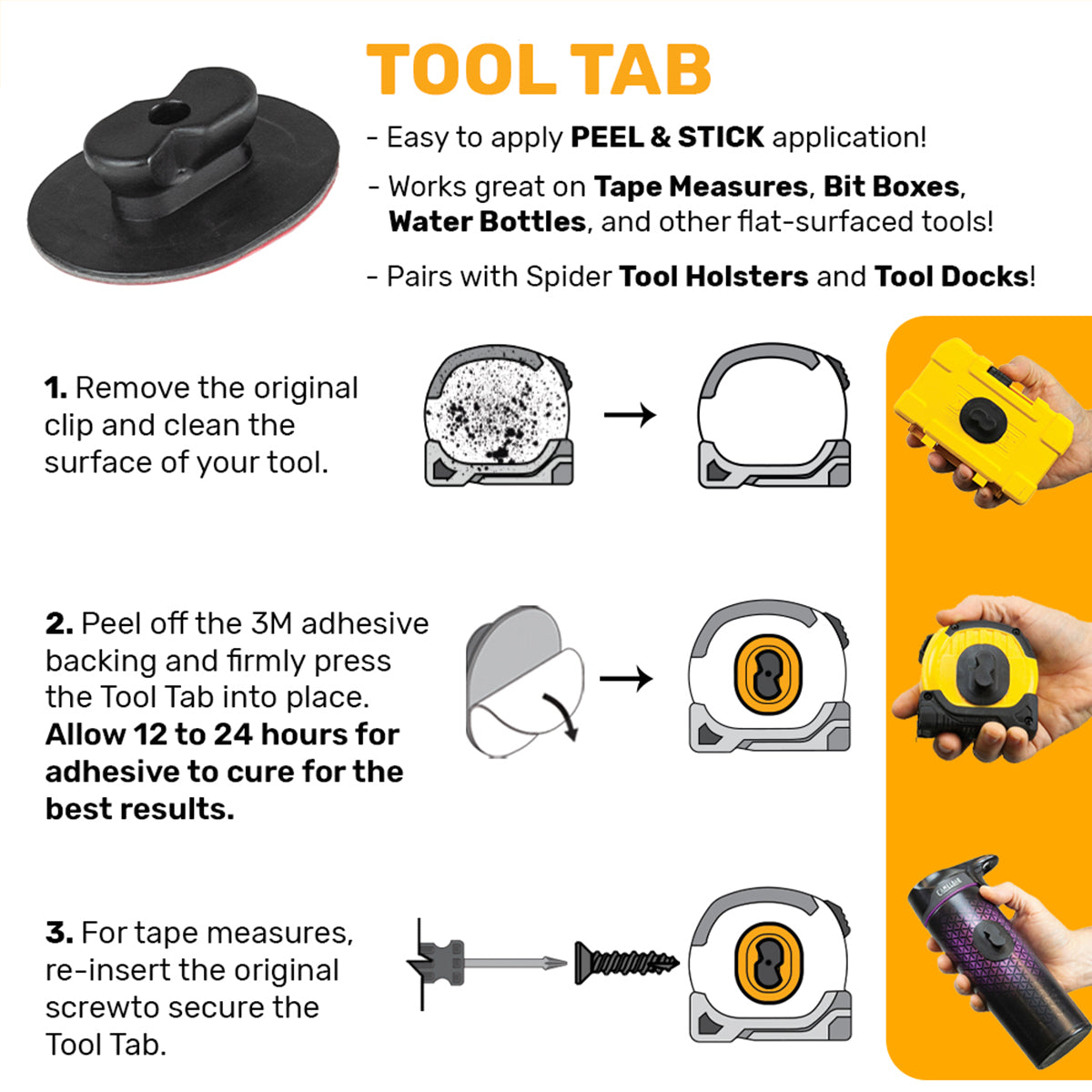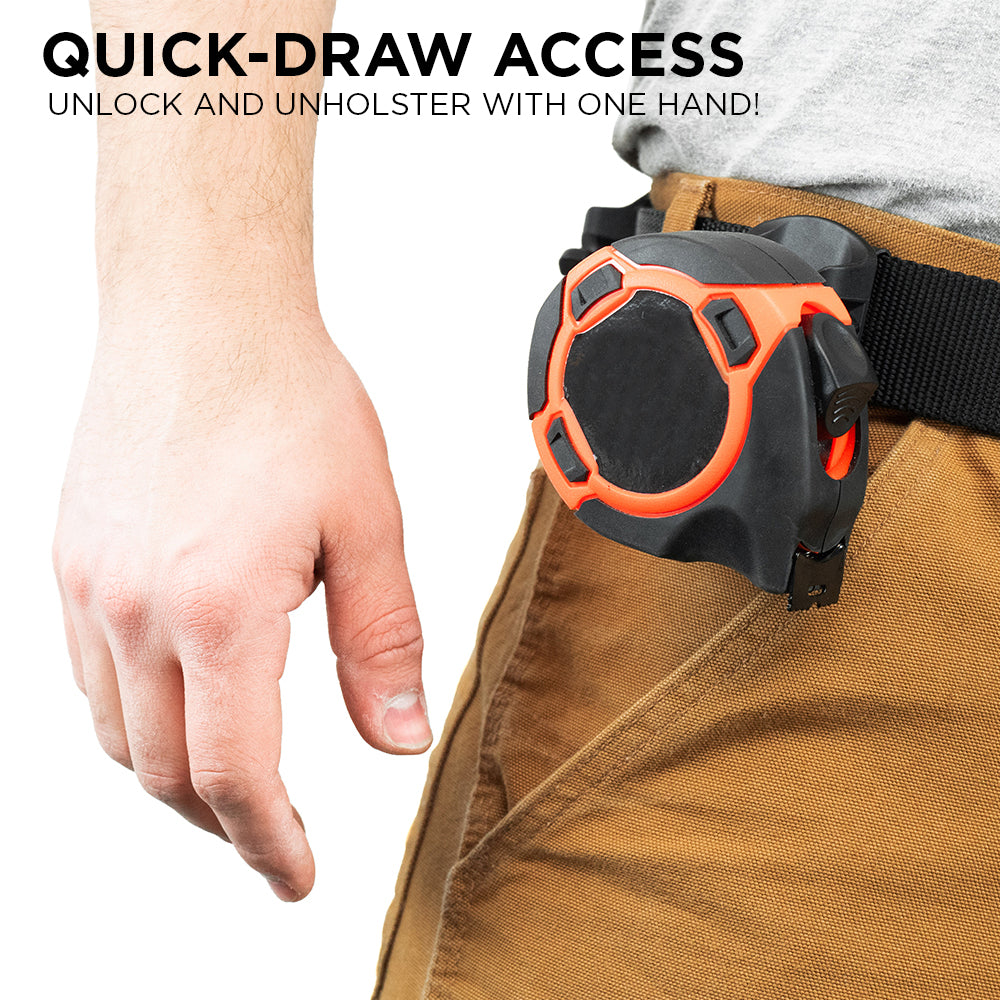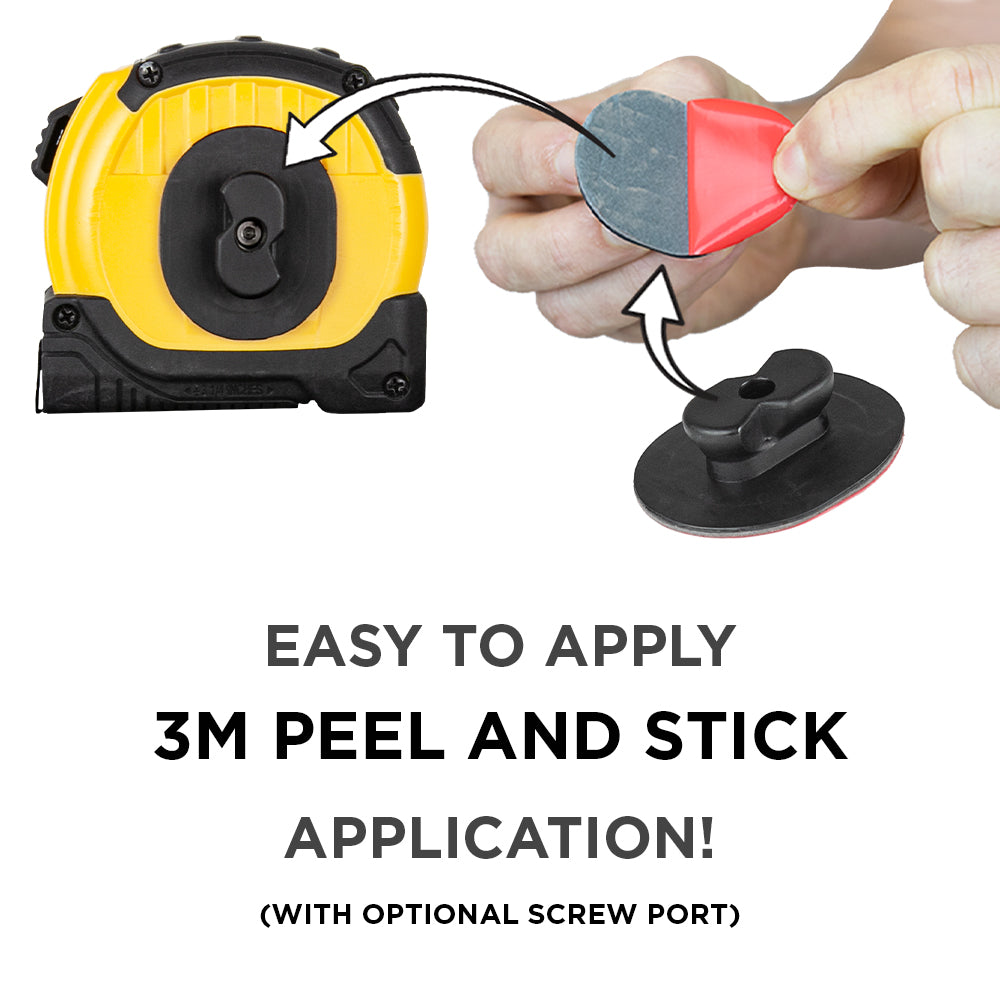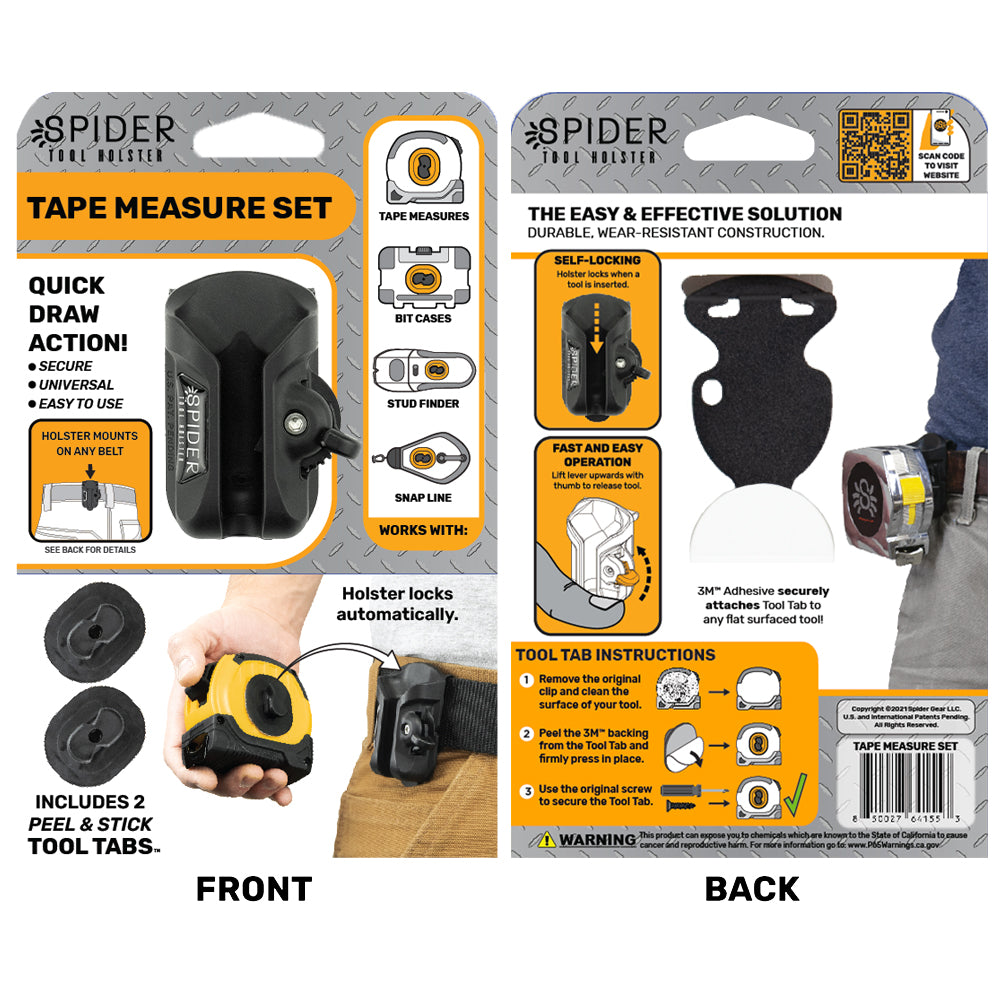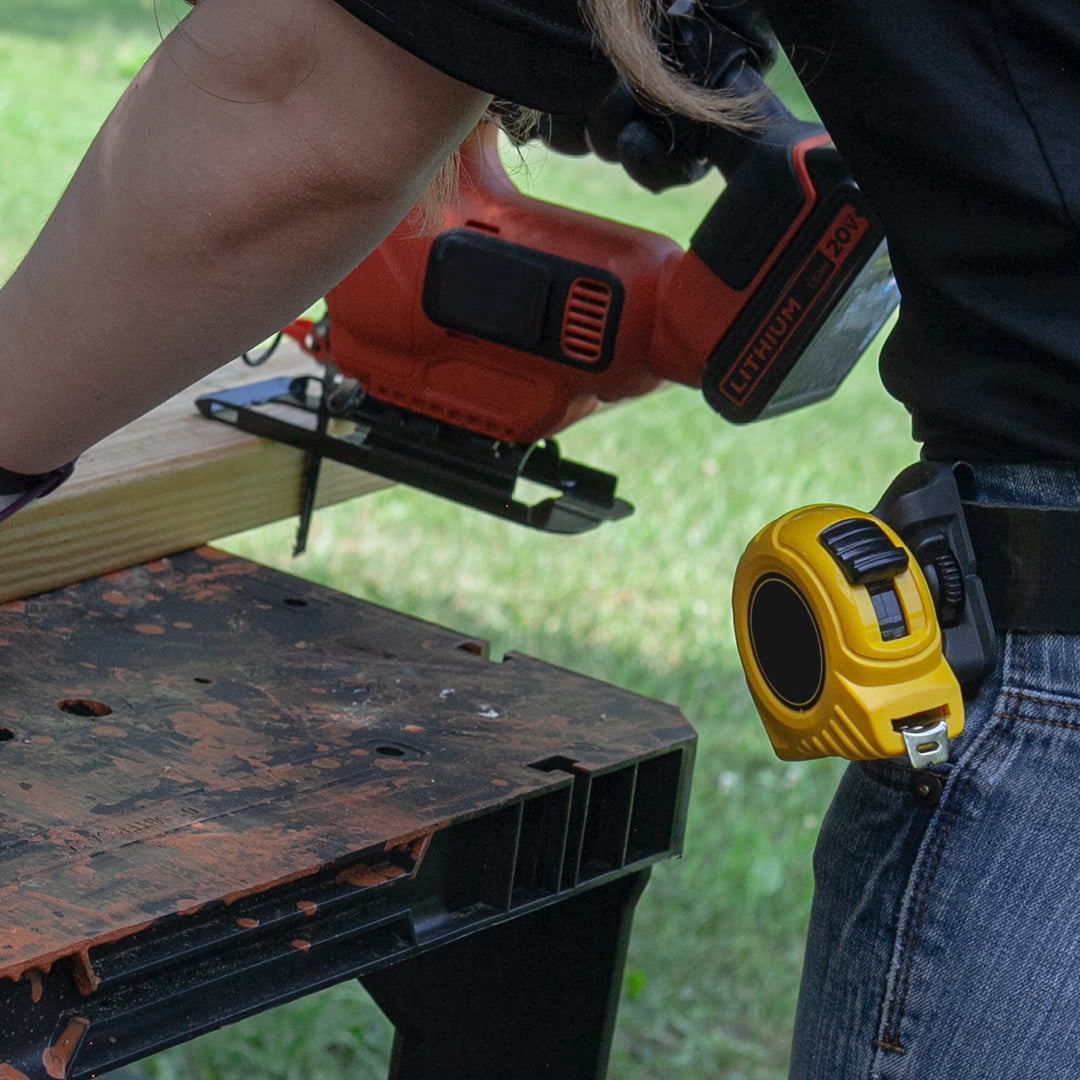 Tape Measure Set
---
---
Tool Holster
The Spider Tool Holster is an easy to use, universal carrying system for power tools that clips onto any casual belt or tool belt.

The Tool Holster has a self-locking design which locks / secures your tool each time a tool is inserted. To unlock the holster, lift the lock lever with your thumb and lift the tool out of the holster – this can be done one handed!

The Spider system makes it quick and easy to access a power drill, driver, tape measure, hammer, pneumatic, multi-tool, reciprocating saw, flashlight and more!

 Because of the Tool Holster's compact design, you can use multiple holsters on your belt, enabling you to keep all of your tools safe and easily reachable.

The Tool Holster is constructed of a durable composite nylon and the metal clip on the back is made of high strength spring steel, both of which can handle daily wear and tear in any job environment.

Spider Tool Holsters are compatible with all Spider Tool Holster products. 


Tool Tab
Using genuine 3M adhesive, the peel-and-stick Spider Tool Tab is the perfect way to carry your tape measure, bit box, large drink bottle, and more from your Spider Tool Holster / Tool Dock!

Tool Tabs are made from a highly durable composite nylon which can withstand daily wear and tear in any work environment.

The long, raised profile of Spider Tool Tabs allow them to lock securely into our Spider Tool Holster and prevent tool rotation and bouncing.

For best results when applying to your tool, we recommend the following steps:
1. Thoroughly cleanin the surface of your tool with isopropyl alcohol
2. Press the Tool Tab in place for one minute
3. Allow 24 hours for the adhesive to properly cure.

For added security when applying to tape measures, insert the OEM screw through the provided counterbored hole of the Tool Tab and tighten in place.

Designed for use with our Tool Holster*, Tool Holster Pro*, or Tool Docks*. (sold separately*)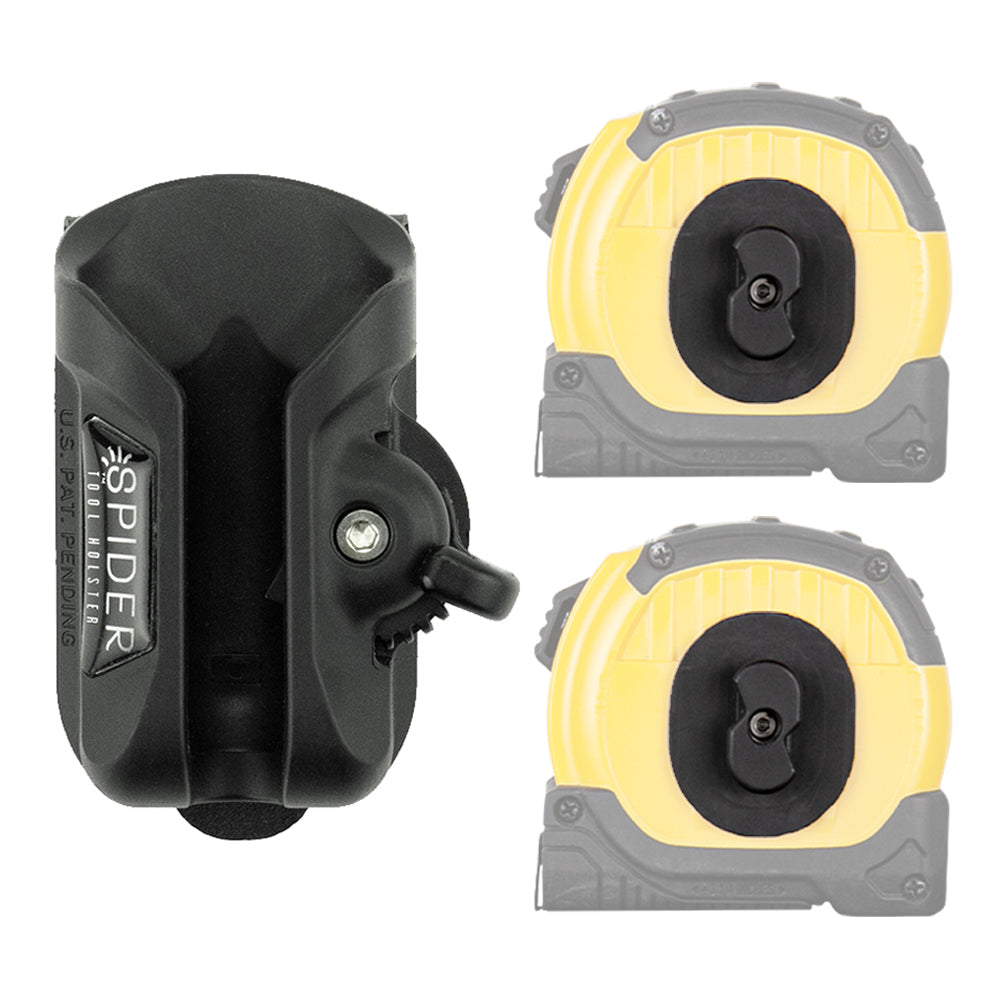 This product is rated 4.6 of 5.0 stars.
It has received 55 reviews.
Doesn't work
I removed the lock it was difficult to use one handed clipped to my belt it still doesn't slide out of the holder properly I was very excited about your product at the IBS show and couldn't wait to try it unfortunately I'm unhappy with it
Needed some modification
I purchased the tool holder version of this for my impact from KMS some time ago and was very happy with it. The grip does slide around on the handle a bit over time but thats a small price to pay to keep my drill from falling off my pocket and taking a 10ft plus dive off a roof.
I just purchased the tape measure version and was surprised to find that i had to trim off the plastic around where the original clip goes on a fatmax tape. (I feel this might be a problem for most types of tape measures) After doing this i still found the spider clip was a little tight fitting into the Holster and I had to sand down the edges of the Holster untill the clip fit in and out easily. Overall i think its a good product that will save my tools from long drops and my pockets from getting trashed however there still seems to be some bugs and kinks to work out.
My suggestion would be to test the application of these clips with a variety of different brands of tools to find the best shapes for a universal fit.
I would also like to see more styles available on the market. The hammer clip for instance only seems to be available with the 12 piece kit. When i have one for my drill and one for my tape already, i dont really want to spend $70 for a 12 piece kit just for the hammer clip. Maybe make extra pieces available individually as well as in kits. Or make a kit that is more practical to buy as a kit, eg 3 holders, 1 drill clip, 1 tape clip and 1 hammer clip.
The system works great. Should really have two belt hangers in the kit for the price. To get more you must buy another large expensive accessory kit. There is no way that I could find to just buy more holsters. Also should make them a bit wider to fit standard tool belts as well as regular belts. I work on ladders slot and the locking function is really useful but I want to use it for more than one tool at a time!
These holsters and clips are a game-changer. I use them on my recip saw, multi tool, SDS rotto hammer, and my measuring tapes. Very secure, can go up any ladder with confidence and easy to grab the tool one-handed. Will be buying more soon totally recommend. Ive gotten most of my co-workers to try them too
I've used it for a few weeks it get stuck in the unlocked position. Maybe I got one from a bad batch.
This product is rated 4.6 of 5.0 stars.
It has received 55 reviews.