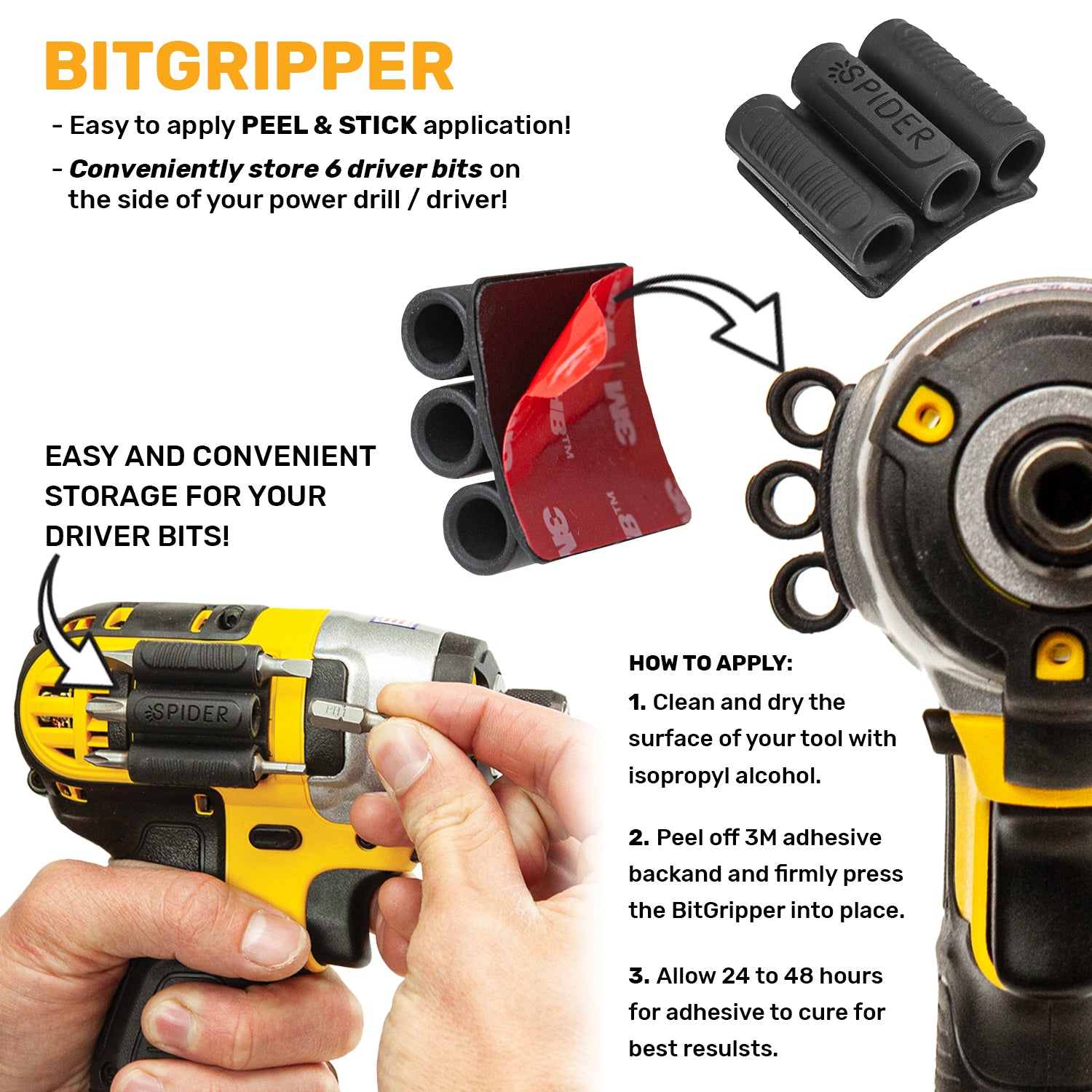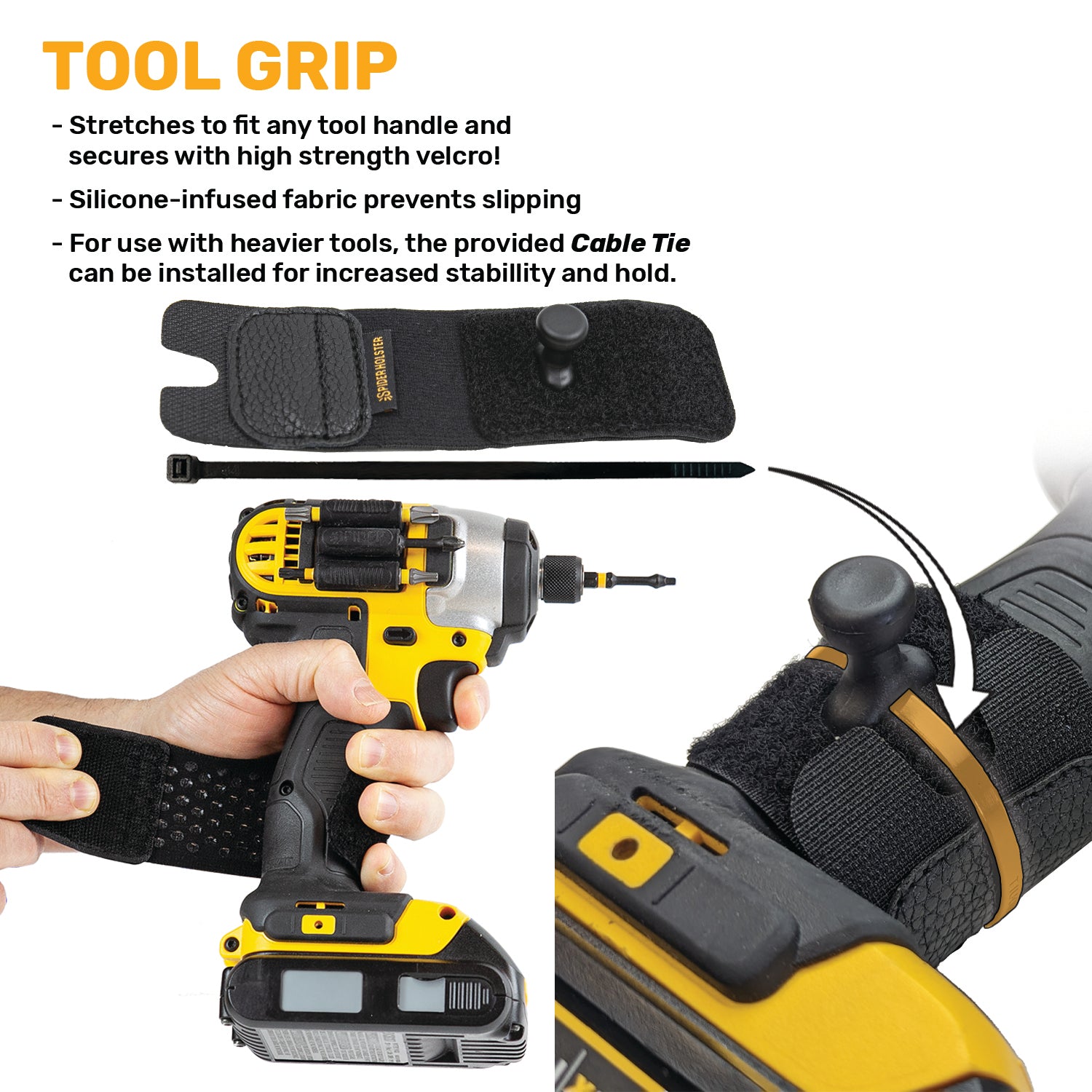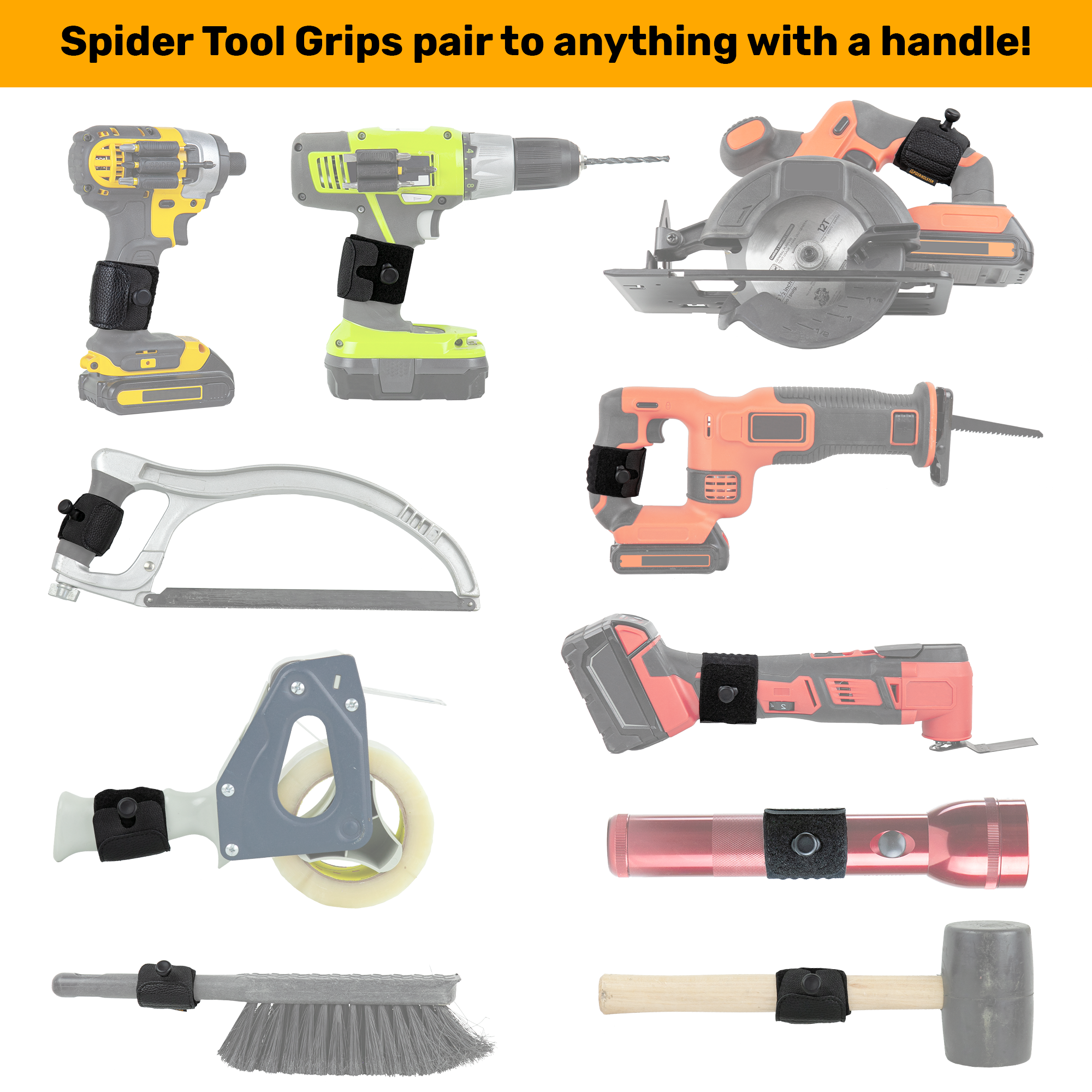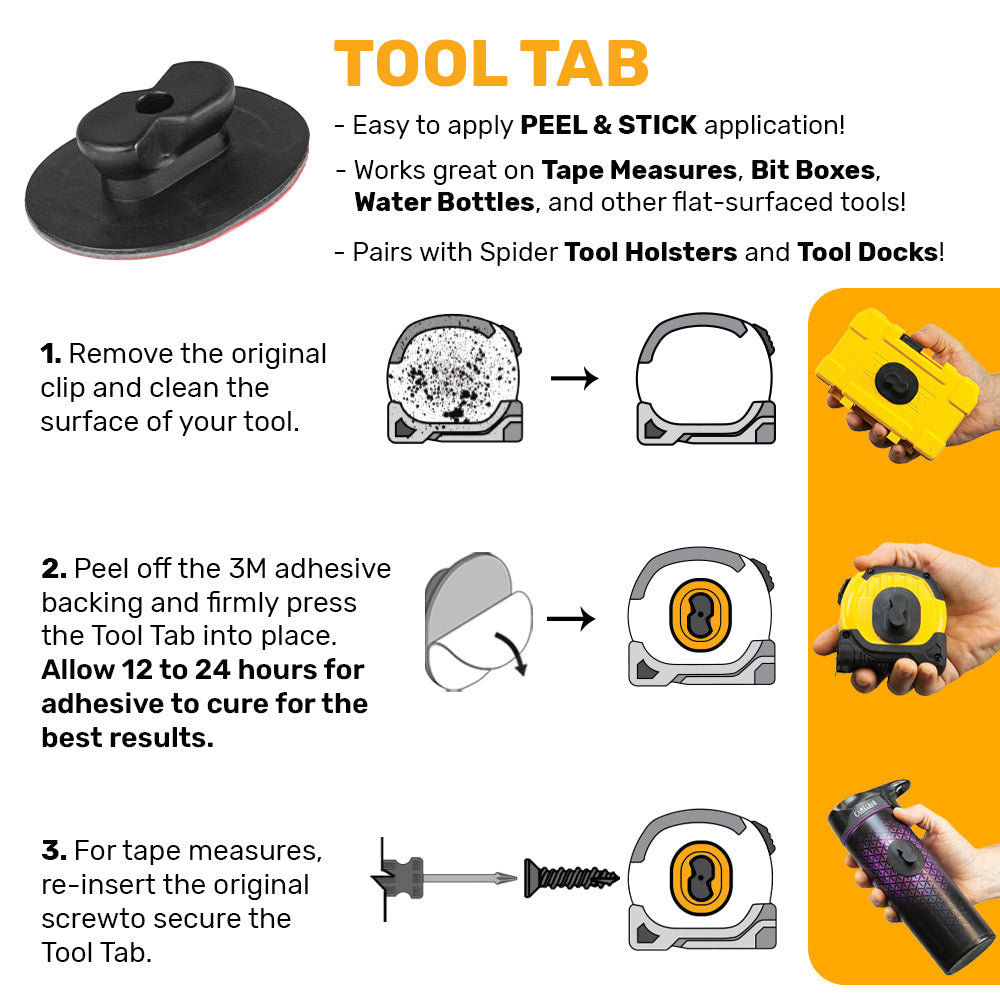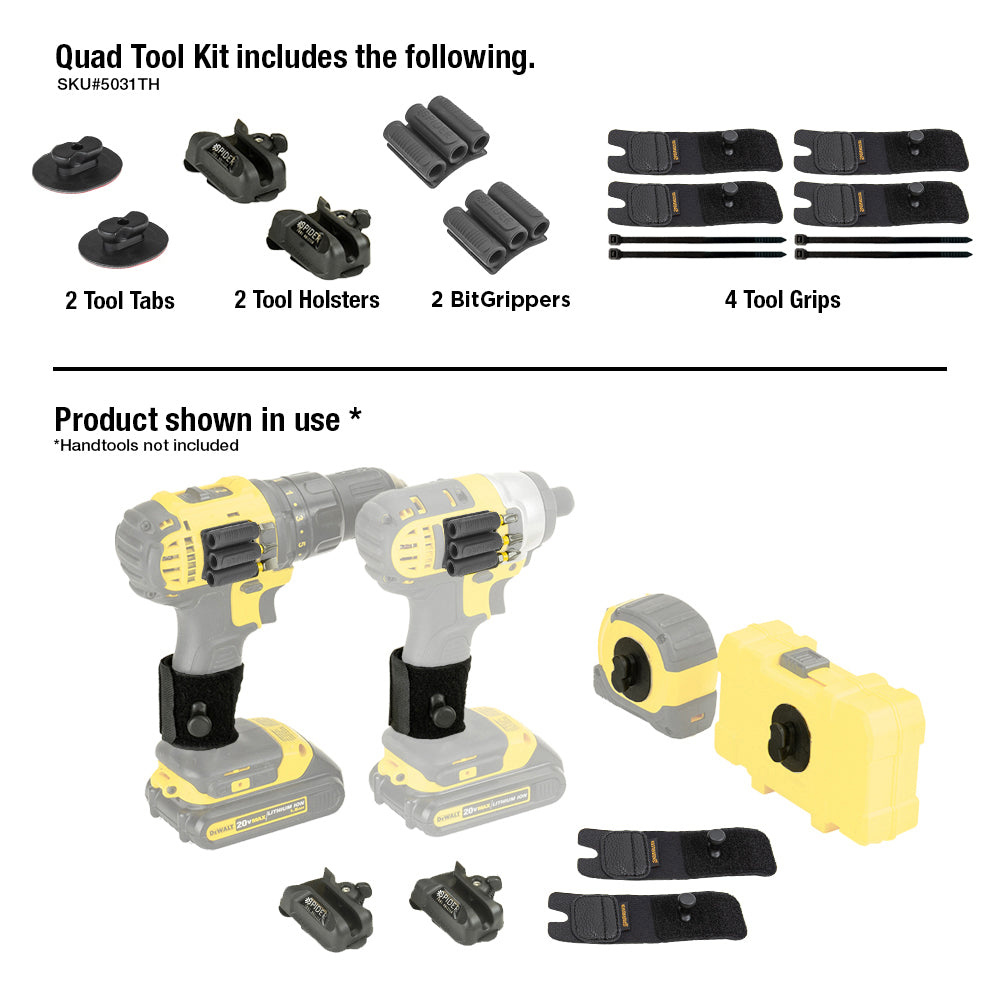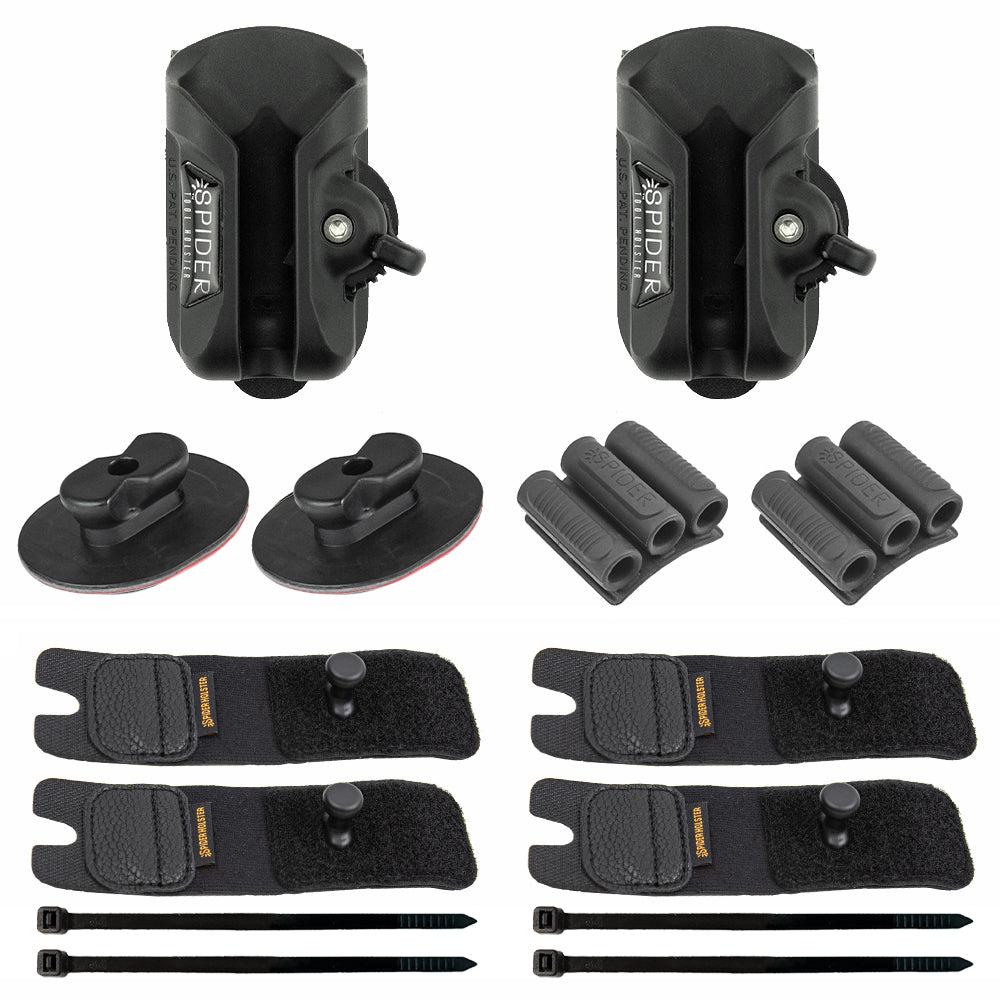 Quad Tool Kit - 10 Piece Kit
---
---
Tool Holster
The Spider Tool Holster is an easy to use, universal carrying system for power tools that clips onto any casual belt or tool belt.

The Tool Holster has a self-locking design which locks / secures your tool each time a tool is inserted. To unlock the holster, lift the lock lever with your thumb and lift the tool out of the holster – this can be done one handed!

The Spider system makes it quick and easy to access a power drill, driver, tape measure, hammer, pneumatic, multi-tool, reciprocating saw, flashlight and more!

 Because of the Tool Holster's compact design, you can use multiple holsters on your belt, enabling you to keep all of your tools safe and easily reachable.

The Tool Holster is constructed of a durable composite nylon and the metal clip on the back is made of high strength spring steel, both of which can handle daily wear and tear in any job environment.

Spider Tool Holsters are compatible with all Spider Tool Holster products. 


Tool Grip
Spider Tool Grips stretch to fit the handle of any tool such as a power drill, impact driver, reciprocating saw, pneumatic nailer, flashlight, and more!

Tool Grips are made from a durable elastic material that allows it to stretch around your tool's handle and secure to itself using high strength velcro. The inside of the Tool Grip is infused with rows of silicone dots which help keep it in place while working.

For added security, the provided cable tie can be installed through the small slit on the Tool Grip's pin.

The Tool Grip's built-in Spider Pin is made from a durable composite nylon and is designed to be low profile so it stays out of the way of your hand while working. That Spider Pin is what inserts into the Spider Tool Holster / Tool Dock.

Designed for use with our Tool Holster, Tool Holster Pro*, or Tool Docks*. (sold separately*)


Tool Tab
Using genuine 3M adhesive, the peel-and-stick Spider Tool Tab is the perfect way to carry your tape measure, bit box, large drink bottle, and more from your Spider Tool Holster / Tool Dock!

Tool Tabs are made from a highly durable composite nylon which can withstand daily wear and tear in any work environment.

The long, raised profile of Spider Tool Tabs allow them to lock securely into our Spider Tool Holster and prevent tool rotation and bouncing.

For best results when applying to your tool, we recommend the following steps:
1. Thoroughly cleanin the surface of your tool with isopropyl alcohol
2. Press the Tool Tab in place for one minute
3. Allow 24 hours for the adhesive to properly cure.

For added security when applying to tape measures, insert the OEM screw through the provided counterbored hole of the Tool Tab and tighten in place.

Designed for use with our Tool Holster, Tool Holster Pro*, or Tool Docks*. (sold separately*)


BitGripper v2
Spider BitGrippers allow you to carry up to 6 bits on the side of your power drill + driver!
BitGrippers make carrying and swapping out your bits secure, fast and easy.

Constructed from a durable, yet flexible rubber, BitGrippers feature a simple peel-and-stick application using high strength, genuine 3M adhesive that securely attaches it to the side of any flat or curvedsurface.

BitGrippers can be conveniently mounted on the side of your drill without blocking the vent ports, as well as the the top, or anywhere on the battery.

Each BitGripper contains three hollow channels that hold inserted bits securely in place. These channels allow each BitGripper to hold up to 6 short driver bits, or three longer bits such as a step drill, holesaw, sawtooth, auger, space, countersink, brad point, twist, masonry, tile, forstner, rivet, vix, step drill, plug cutter, extended clearance, and HSS (high speed steel) bits. It also works for holding pencils!

We recommend outfitting multiple BitGrippers to one drill so you never have to fumble around in your pockets & pouches for your gear when you need them most.
This product is rated 4.7 of 5.0 stars.
It has received 598 reviews.
Great tool
The tool holster and attachments are well designed, high quality, and a definite time saver. The whole crew thinks the tool is great and find new uses for the accessories every day. Highly recommend.
Keep 'em close
A tool isn't very useful if it is out of reach. And this Spider kit was a great way to start toward an effective way to keep tools nearby while also allowing my hands to do other things. There wasn't a kit that had all the pieces I wanted, so I added to this kit some "drill pins" and some other pieces.
The belt holster really works well. The tools drop in smoothly, and my fingers have quickly learned how to lift the release while lifting the tool out. One handed - in and out, on the left or right. The belt clip is steel with a lip at the bottom so it is unlikely to lift off my belt, so long as the belt is not more than 2 inches wide. After years of carrying my drill and such hanging from a hook, I really appreciate that this holster latches the tool in - and not having a hook catch on everything is quite nice.
Construction and materials seem good. I expect I will get rather addicted to this way of carrying my tools so I really hope they last a long, long time.
Quad Tool Kit - Repeat purchase.
Great setup, I've bought a few of these packs and some extra individual parts as well. My only thing would be to up grade the zip ties on the hammer holder ones. They break loose easily if you're using your hammer alot and the glue isn't quite strong enough on its own. A nice metal zip tie or thicker one would work perfectly.
These things are great! The bit holder fell off after about an hour worth of work but the clip is great. It sits a bit wonky at first as compared to the standard belt hook but you won't drop your tool and break it. You also won't drop your tool on someone's head
Mainly likes for use and convenience. My negatives are. The strap makes the handle bigger and I have small hands. There is a learning curve to use it. I have to look to hit the slot.. Have to use a stiff leather belt for durability. Is tough on belt straps on jeans.. Best suited to a utility work belt.
This product is rated 4.7 of 5.0 stars.
It has received 598 reviews.