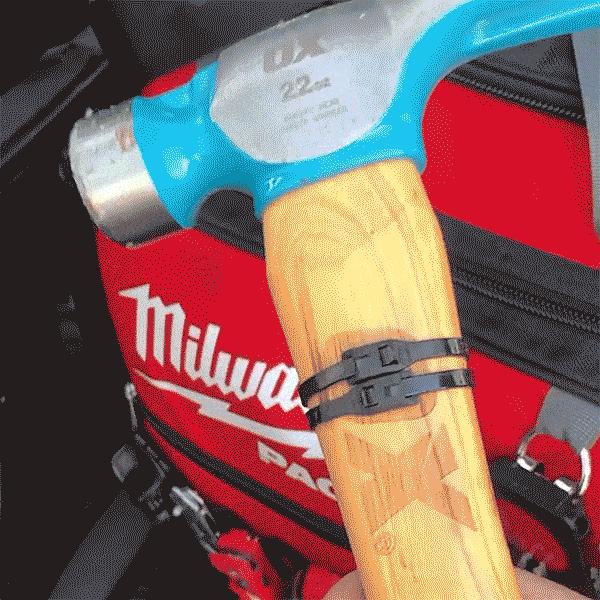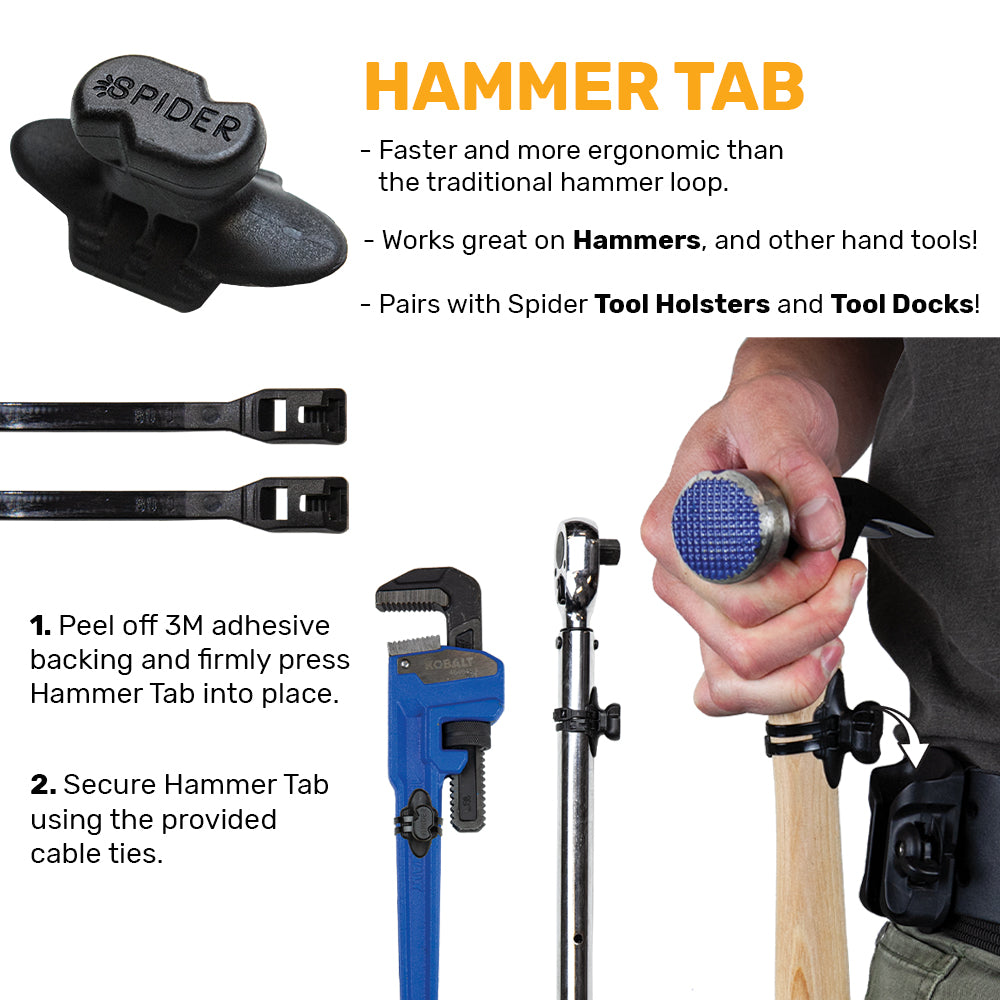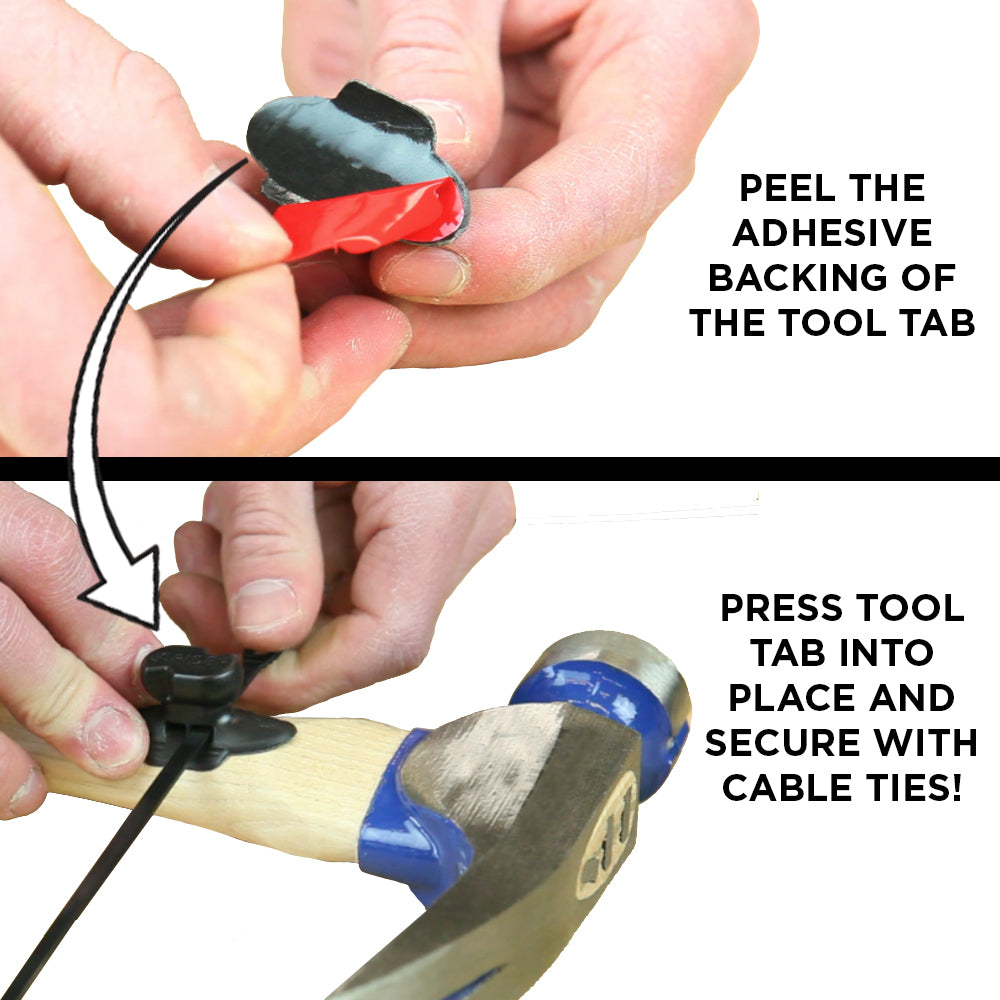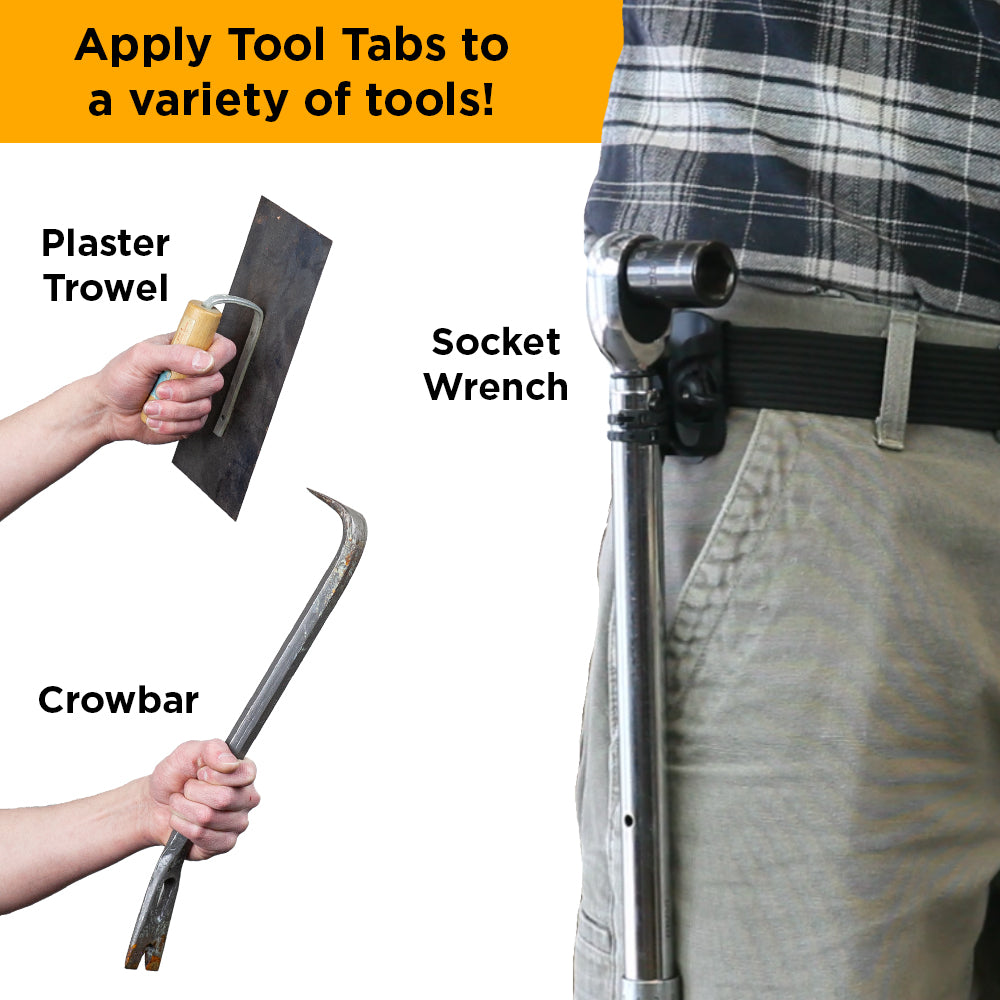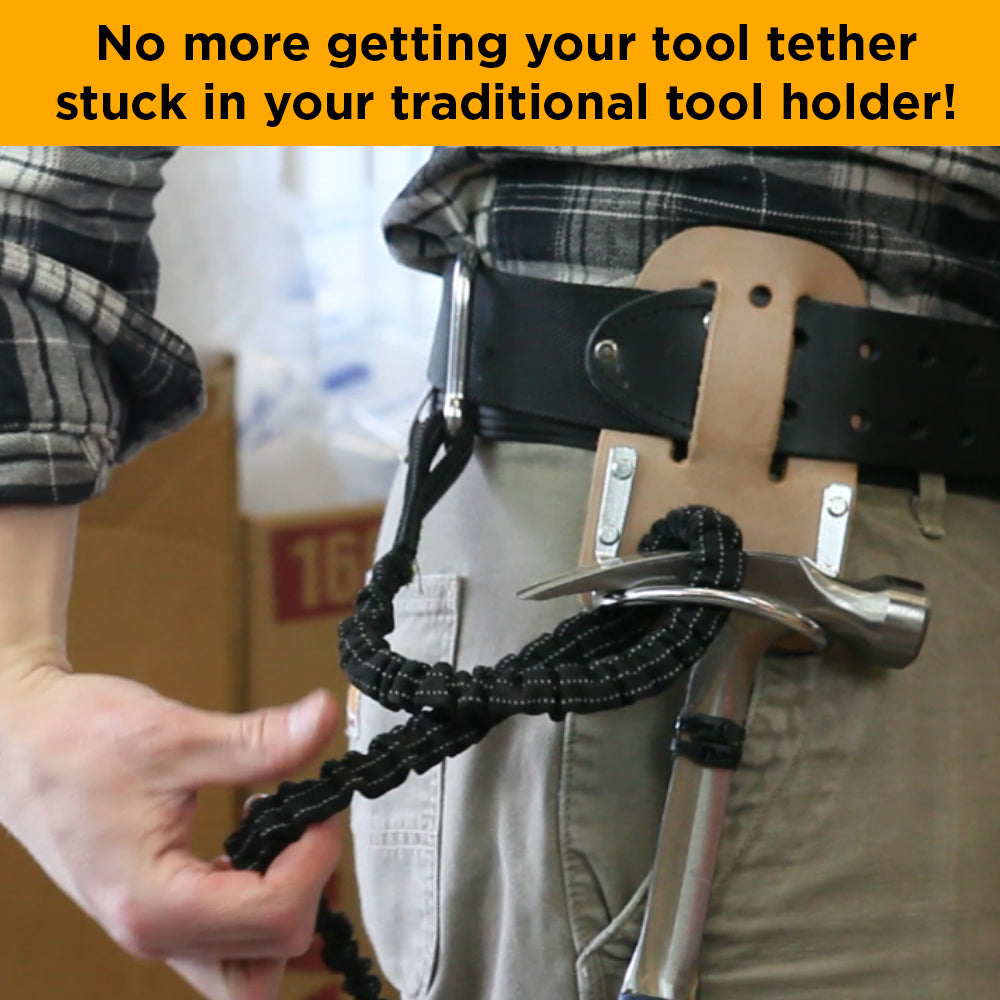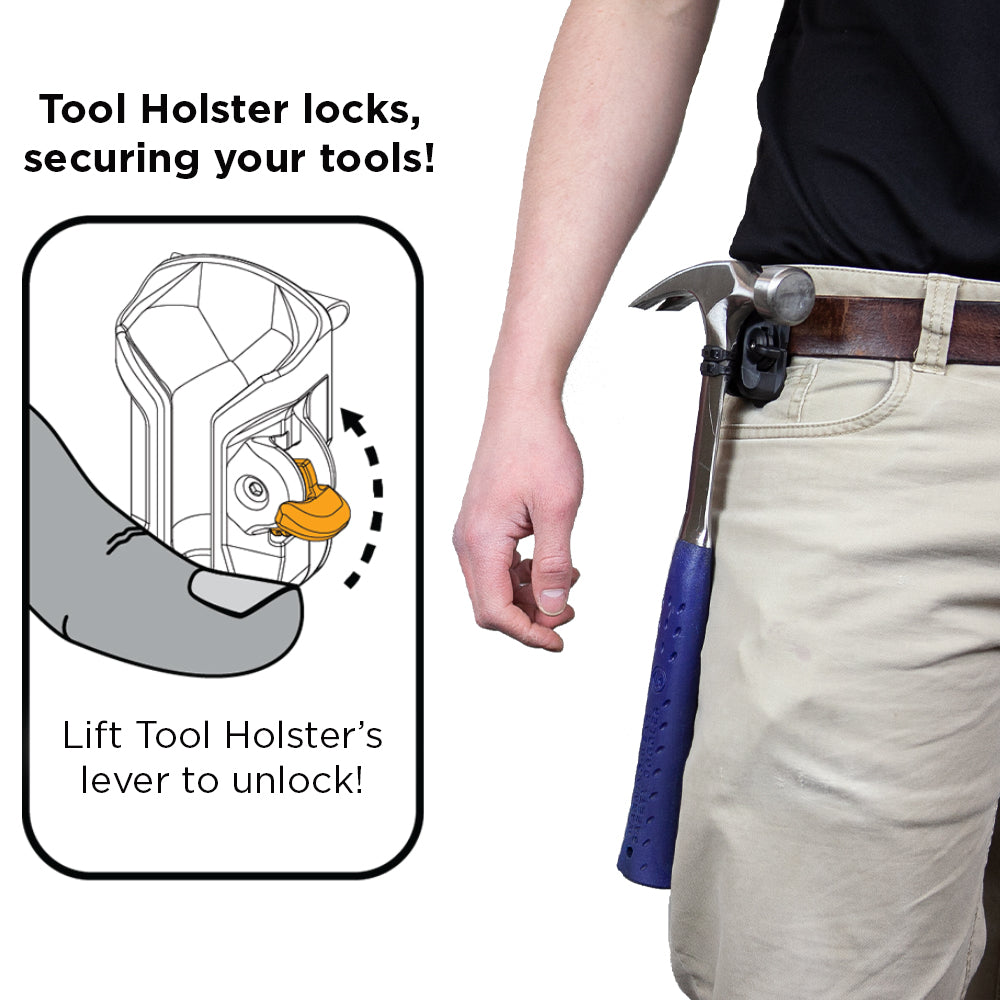 Hammer Holster Set
---
---
Tool Holster
The Spider Tool Holster is an easy to use, universal carrying system for power tools that clips onto any casual belt or tool belt.

The Tool Holster has a self-locking design which locks / secures your tool each time a tool is inserted. To unlock the holster, lift the lock lever with your thumb and lift the tool out of the holster – this can be done one handed!

The Spider system makes it quick and easy to access a power drill, driver, tape measure, hammer, pneumatic, multi-tool, reciprocating saw, flashlight and more!

 Because of the Tool Holster's compact design, you can use multiple holsters on your belt, enabling you to keep all of your tools safe and easily reachable.

The Tool Holster is constructed of a durable composite nylon and the metal clip on the back is made of high strength spring steel, both of which can handle daily wear and tear in any job environment.

Spider Tool Holsters are compatible with all Spider Tool Holster products. 


Hammer Tab
Spider Hammer Tabs are the perfect way to carry your hammer, mallet, flashlight, wrench, socket, crowbar and more from your Spider Tool Holster / Tool Dock!

Hammer Tabs utilize genuine 3M peel-and-stick adhesive to help you position the Hammer Tab prior to securing it to your tool handle by inserting the provided cable ties through the 2 slits on the base of the Hammer Tab. Once secured should be trimmed flush.

Hammer Tabs are quicker and more ergonomic than using a traditional hammer loop. It's much faster to insert your tool into a Spider Holster than to fumble around inserting into a tool belt loop, especially while using a tool tether!

Hammer Tabs are made from a highly durable composite nylon which can withstand daily wear and tear in any work environment.

Designed for use with our Tool Holster, Tool Holster Pro*, or Tool Docks*. (sold separately*)

This product is rated 4.4 of 5.0 stars.
It has received 26 reviews.
Hammer holster meh
Great idea, not sure how long the company has been around, but definitely needs some improvement too much loose play and feels cheap. For the price meh not sure how I feel about it does the job I guess.
Currently clipped onto the belt of my carpenter tool bags at the 2 o'clock position and its been a game changer so far.I need to be able to equip my hammer quickly/frequently and having it at 2 o'clock imo makes the whole process effortless compared to the traditional set up where the hammer loop is located behind you at 5/6 o'clock.Surprisingly keeps both the hammer head and the handle out of the way and there is virtually zero hanging-handle slap. I even tried storing it in reverse orientation (with the head facing the ground and the handle towards the sky) and it honestly doesnt impede your movement much, but if your working with your hands located mainly around waist level then holstering it with the handle facing up would not be ideal.Cant speak on the durability yet but im hoping it will hold up because id rather not have to revert back to using a traditional loop. My tool belt rig gets thrown around alot (in-and-out of the work trucks) so only time will tell if its able to withstand the abuse.
I have this clip on a Dewalt framing hammer and it works well, but not flawlessly. If you plan to use this, then be sure to keep a couple extra zip ties in your tool belt also. In the couple of weeks Ive used this Ive had two zip ties break on me. Make sure you do use both zip ties to strap it to your hammer so that when one breaks, the other is still there to keep it from falling off. Im a carpenter and I love how securely it holds the hammer to my belt. I bought this after my hammer fell out of a hammer loop and fell 3 stories to the ground floor. That could have killed someone! I feel a lot safer with this clip than I did with the hammer loop. I just wish there was a better way to strap it to the hammer than zip ties.
It is a amazing alternative to tool bags.The tool bags are made of out date information.Just like tool vests. We have to have high vis. This is on all jobsites .Bags and vests are black. In the sun( yes construction can not be done remotely from home in the shade) black heats up and you have to have a high vis vest over your heat generating bags. Stupid is what stupid do. No body gets this that makes tool bags. We have not used hand nails in I digress maybe 28years ago ?I use a Milwaukee nail guns,saw,multi tool,sawall,planer and a impact on a daily basis.We need 10s,8snails and screws. Can you please list one tool manufacturer that makes tool bags with high vis low heat retention ,places to put 10s and 8s that do not intervene with movement and keep them unbroken and clean? Plus a system like spider that gives you the opportunity to hang up m18 tools securing them from falling 18 stories and killing someone? So of course you need a ergodyne safety system also.If they made their retractable tethers that locked when retracted we would not need the spider black only lever that is on only side that is a total pain in the ass on your left side but it is a godsend compared with earlier systems .When you lost control of a tool you yelled (heads) and of coarse they always looked up. If they can make a left side lever get rid of black ( high vis would be appreciated) and get a screw hole in the holder with a screw provided eliminating the holder coming loose from the belt and falling because only the tool is tethered and when pulling out a tool from the left side and the release is only on one side.Instead of tradesman having to do this themselves Spider is in a class all by themselves and providing the only true solution however if they can figure out what they have so far why not make it a slam dunk with teathers that self lock when retracted in high vis before someone else does and makes their products unnecessary. Spider if you read this YOU CAN DO THIS. If anyone buys this product you need to get a allen wrench to adjust the lever. They do not provide one with it. It is the best product out there but there are cheap knockoffs so only buy the best spider
Works outstanding! I wanted some kind of attachment system for my hammer to be carried handle up. I do not enjoy grabbing a tool Im needing to use and not have it ready to us when I grab it. No more fumbling around trying to juggle a hammer to get the handle in my hand so I can use it. A back pocket would be more practical over any of the improvement starved traditional and way passed played out ways of hammer carry Ive ever seen. This little gadget is pretty good at it though. Actually works A lot better than I imagined it would. Well surpassed my expectations I had and it shipped quick which is always great.
This product is rated 4.4 of 5.0 stars.
It has received 26 reviews.